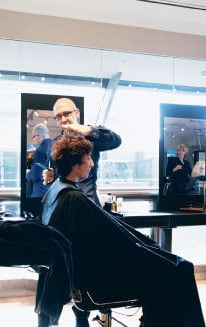 experience the difference at an aveda salon
Feel the difference Aveda can make in your life. Book an appointment today at your nearest Aveda. Find a location near you.
women
Cutting-edge cuts and color are just the start.
Aveda stylists are trained to pamper, transport and expertly care for you. We set trends on the fashion runways and then use them as inspiration—for looks that suit your life and your style. And it's all done with pure flower and plant ingredients that protect nature's beauty while enhancing yours.
men
Aveda stylists are educated on both masculine design elements and techniques to keep men's hair cutting organized and efficient. Stylists are also taught how to develop a higher service and creative standard in catering to male guests. It all happens with one goal in mind: to better serve you.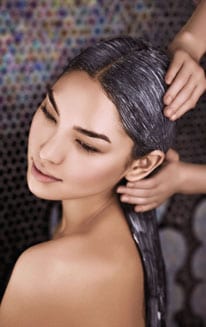 botanical therapy treatments
tap the wisdom of Ayurveda (the ancient healing art of India) and combine the power of touch with aroma-therapeutic essential oils to create a healthy scalp—the foundation for beautiful hair. Customized treatments meet your personal needs—giving strands intense moisture or repair—restoring balance to the ecosystem of your scalp and hair

for your hair
moisture treatment improves dry hair up to 86%* with the power of buriti and pomegranate oils, leaving strands soft, silky and shiny.
repair treatment improves damaged hair up to 84%* with the power of quinoa protein and sugar beet-derived amino acid, leaving strands strong, supple and healthy-looking.
layer on hair masque for very damaged hair.
for your scalp
scalp balance treatment features a deep, restorative massage with the aroma-therapeutic essential oil blend that will bring the healthiest balance to your scalp, setting the stage for beautiful hair.

scalp detox treatment deep cleanses, featuring a refreshing massage with wintergreen-derived salicylic acid that gently exfoliates your scalp and removes build-up that may affect healthy hair.

for your hair and scalp
hair and scalp treatment is like a spa for your head. It begins with a restorative scalp treatment and ends with a transformative moisture or repair treatment.Your hair will look healthier and shinier—and feel soft and silky.
*Clinical wet combing study.
botanical Hair & Scalp Therapysm
GET THE HAIR YOU LOVE PERMANENTLY.
Choose the style you want with smooth infusion™ retexturizing treatment. Go permanently stick-straight or soften curls and control frizz. Organic jojoba oil, meadowfoam seed oil and coconut-derived ingredients condition hair while organic ylang ylang soothes the senses. Treatment leaves hair smooth, shiny and easier to style.
You can retexturize color-treated, highlighted and chemically-processed hair (but not hair that has been previously treated with a sodium hydroxide relaxer).
What you can expect:
A customized consultation and smooth infusion™ retexturizing treatment that gives your hair the texture you want.
Service time of approximately 3 to 4 hours.
Permanently smooth and shiny hair that makes daily styling easier.
To make the most of your smooth new look, we recommend following your retexturizing service with a hair cut.
Avoid getting hair wet, wearing ponytails, clips or headbands or tucking hair behind your ears for 72 hours after treatment.
Recommended service price: $350-450 or $150 per hour—based on the expertise of the stylist.
Ask your stylist today for a consultation.
Find a location near you »
A potent sensory experience and intense repair for hair.
It begins with scalp, neck and shoulder massage—with up to 12 aroma-therapeutic essential oils—to increase scalp circulation while targeting pressure points that release tension. Then hair is treated with one of two intense repair formulas: Moisture Immersion, for up to 71% softer, smoother strands; or Strength Infusion, for up to 71% more resistance to combing breakage. At every step, aroma-therapy elevates, soothes or recharges.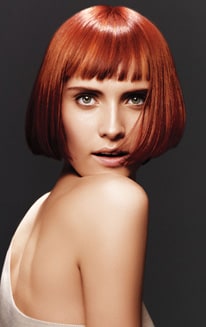 Aveda Hair Color gives you vibrant color that lasts. And because it's up to 99% naturally derived, it's essentially damage free. Here are a few more reasons to love Aveda Hair Color:

Infused with Sunflower, castor and Jojoba oils which improve hair's condition and add shine.
Made up of a natural anti-oxidant to help protect hair against fading.
Filled with pure flower and plant aroma with lavender to soothe, calm and relax.
botanical hair therapy
Improves the condition of hair up to 71%.
custom foil placement
Adds dimension, movement and expression to hair with minimal foil placement.
gloss treatment
Enhance your hair's natural color and shine.
natural grey blending
Hide grey, while making hair appear thicker and fuller.
Ask your salon service professional about these services today!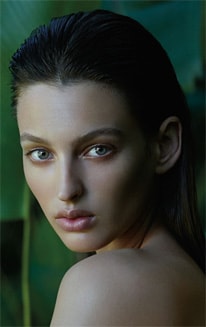 Green Science Perfecting Plant PeelSM
Beyond glycolic peels—the Perfecting Plant PeelSM gives you the instant exfoliation and radiance benefits of a 30% glycolic peel but without the associated irritation..
Enbrightenment™ Discoloration Treatment
Visit an Aveda Salon/Spa near you to experience the combination of powerful ingredients, professional massage, and reflexology developed as part of a complete Enbrightenment™ Skin Care system.
Green Science™ Skin Renewing Treatment
Combines high-tech plant technology with a high-touch service to maximize the benefits of Green Science™ skin care system—more visible life, reduced appearance of lines and wrinkles, improved visible firmness. Incorporates skin-rejuvenating massage with professional-only Green Science™ Masque-Age.
Outer Peace™ Acne Relief Treatment
A total solution—personalized for your skin—that treats not only acne symptoms, but its causes—so skin stays clear. Includes consultation; professional exfoliation, pore extractions and redness reduction; stress-relief techniques; and diet and other individualized tips for an acne-conscious lifestyle. A 3-week series is recommended.
Outer Peace™ Acne Relief Treatment
A total solution—personalized for your skin—that treats not only acne symptoms, but its causes—so skin stays clear. Includes consultation; professional exfoliation, pore extractions and redness reduction; stress-relief techniques; and diet and other individualized tips for an acne-conscious lifestyle. A 3-week series is recommended.
All-Sensitive™ Facial
Mindful techniques that take hyper-responsive skin to a state of balance. Integrates a modern understanding of sensitive skin with unique botanical formulations for gentle, yet effective, care.
Aveda Customized Facials
A treatment masque and massage are just the beginning of this total care facial customized for your skin's specific needs—cleansing, hydrating and balancing body and mind through nurturing aromas and rituals.
Botanical Skin Resurfacing
Aveda's innovative alternative to microdermabrasion. Our hands-on approach—and the power of tourmaline—smooths skin texture, reduces the appearance of fine lines, and diminishes pore size while significantly increasing radiance. Giving you glowing results comparable to salon microdermabrasion—but with less irritation and inflammation.
Eye Zone Treatment
Let Aveda soothe your delicate eye zone with a cooling and revitalizing treatment that combines gentle massage techniques with state-of-the-art plant- and flower-based formulas. Even very tired eyes will see a noticeable reduction in the appearance of fine lines and puffiness.
Self-Renewal Face and Body Experience
A customized treatment that relieves stress and balances face, body and mind. Advanced flower and plant technology—enhanced with Indigenous Wisdom and proven techniques of acupressure, Ayurveda and massage techniques—restores the "self" to a state of renewal.
Aveda Men Pure-Formance™
Facial. This facial provides specialized treatment for men's unique skin problems. Let our experts customize it to your individual needs--cleansing, exfoliating and hydrating for instant results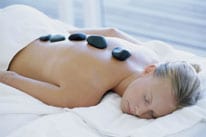 stress-fix™
Our stress-fix™ body massage—proven to reduce feelings of stress—combines the power of Swedish and deep tissue massage, acupressure, foot reflexology and our new stress-fix™ aroma, which is infused with organic French lavender, lavandin and clary sage. Book your massage today and discover a beautiful way to stress less and enjoy yourself more.
Our stress-fix™ pedicures and manicures combines the power of massage, reflexology and stress-fix™ aromaology which is infused with organic French lavender, lavandin and clary sage and proven to reduce feelings of stress.
aqua polish treatment
A skin-refining body treatment using natural minerals and sea salts, enhanced with a personalized, aromatic Aveda Pure-Fume™steam bath. The result is soft, smooth, polished skin. And a new sense of balance.
aroma bodywrap
A full, dry-body exfoliation—with a deeply relaxing aromatic heat treatment—aids the body in self-renewal. The result is soft, smooth skin and a total feeling of well-being.
body elixir treatment
This stress-relieving treatment combines the benefits of exfoliation, massage and hydrotherapy. Skin is cleansed, refined and hydro-massaged to awaken your seven chakras (energy centers). A customized application leaves skin feeling soft, smooth and revitalized.
bodypolish
A total body exfoliation customized with your Aveda Pure-Fume™ of choice. Warm aromatic towels, massage and moisture replenishment make this an ideal choice for skin in need of special attention.
caribbean therapy™ body treatment
A rejuvenating and nurturing body treatment that uses the healing touch and ingredients of the Caribbean to create inner calm and renew body and senses. Treatment begins with a dry exfoliation followed by a smoothing, detoxifying seaweed masque and wrap. A restorative scalp, face and body massage completes this island-inspired experience.
caribbean therapy™ hand and foot treatments
A special exfoliating paste and warm seaweed masque combine with the healing touch and ingredients of the Caribbean to improve the condition of nails and cuticles. Rejuvenating and nurturing, the treatments smooth, soften, relax and renew.<
chakra™ balancing massage
An innovative in-salon spa ritual steeped in the tradition of Ayurveda, the ancient healing art of India. Merges massage and guided meditation with our Chakra™ Balancing Blend aromas to open and balance the chakras—energy centers of the body. Features deep tissue massage on the back and spinal muscles and energy work for the chakras.
essential back treatment
The hard-to-reach area of your back is tended to during this deep-cleansing masque and massage. Shoulders, neck and back are purified and refined to ensure well cared-for skin all over.
himalayan rejuvenation treatment
This nurturing treatment takes you beyond relaxation to a pure mind/body connection. A thorough consultation allows for a customized experience: a vigorous, full-body, dry-exfoliation precedes a rhythmic, friction massage with your specific massage blend. An Aveda Pure-Fume™Steam Bath canopy warms you with aromatic steam. A continuous stream of warmed, plant-based liquid is directed onto your forehead to elicit a deep sense of relaxation and transport you to a state of bliss.
hydrotherapy tub and body wrap
Feel tension slip away as powerful water jets massage specific areas of your body—and your scalp and feet are tended to for a very deep and complete relaxation experience. Your soothing, customized Composition massage is followed by a warm body wrap.
hydrotherm™ massage
Discover a new dimension to the healthful art of massage—warm, water-filled cushions that cradle the body and rock you gently in response to your massage therapist's touch. Conforming to the curves of your spine, these heated cushions allow a full body massage without the interruption of turning over or the use of face cradles. A revolutionary development that relaxes you completely.
pure-formance™ composition™
Stress Relieving Ritual?For men: a stress-relieving scalp and shoulder ritual using a multi-functional blend of essential oils that will soothe and rejuvenate hair and body, while energizing the senses with a rich, spicy aroma.
rosemary mint awakening body wrap
Renew body and mind with this stimulating and nurturing dry wrap. Your body is exfoliated, smoothed, softened and wrapped. Essences of rosemary and peppermint will awaken your senses while a scalp and foot massage balances the whole body.